THE MOISTURISING TRIO
ABSOLUTION x COMBEAU©
Read reviews
Your summer antioxidant moisturising routine. Discover this combination specially designed to deeply cleanse, moisturise and strengthen your skin barrier. The ideal trio to accompany your skin before and after sun exposure.
Ingredients and benefits.
1
Deeply moisturizes
With a high concentration of hyaluronic acid, Le Masque Anti-Soif Hydratant and L'Essentiel Peau replenish the cells with water and improve the elasticity and tone.
2
Soothes skin inflammation
Redness, irritation and tightness due to prolonged exposure to UV rays are reduced from the very first use.
3
Limits imperfections
Thanks to a high concentration of Zinc, le Nettoyant Pureté and L'Essentiel Peau act in synergy to purify the skin and limit the appearance of blemishes.
Made in France. No additives and no preservatives. No allergens. Vegan.
ORGANIC (CARE ABSOLUTION)
Natural ingredients certified by ECOCERT COSMOS Organic, for more information go here.
ORGANIC (L'ESSENTIEL PEAU)
Formulated with ingredients from organic farming, to find out more go here.
MADE IN FRANCE
The moisturising trio is developed and made in France.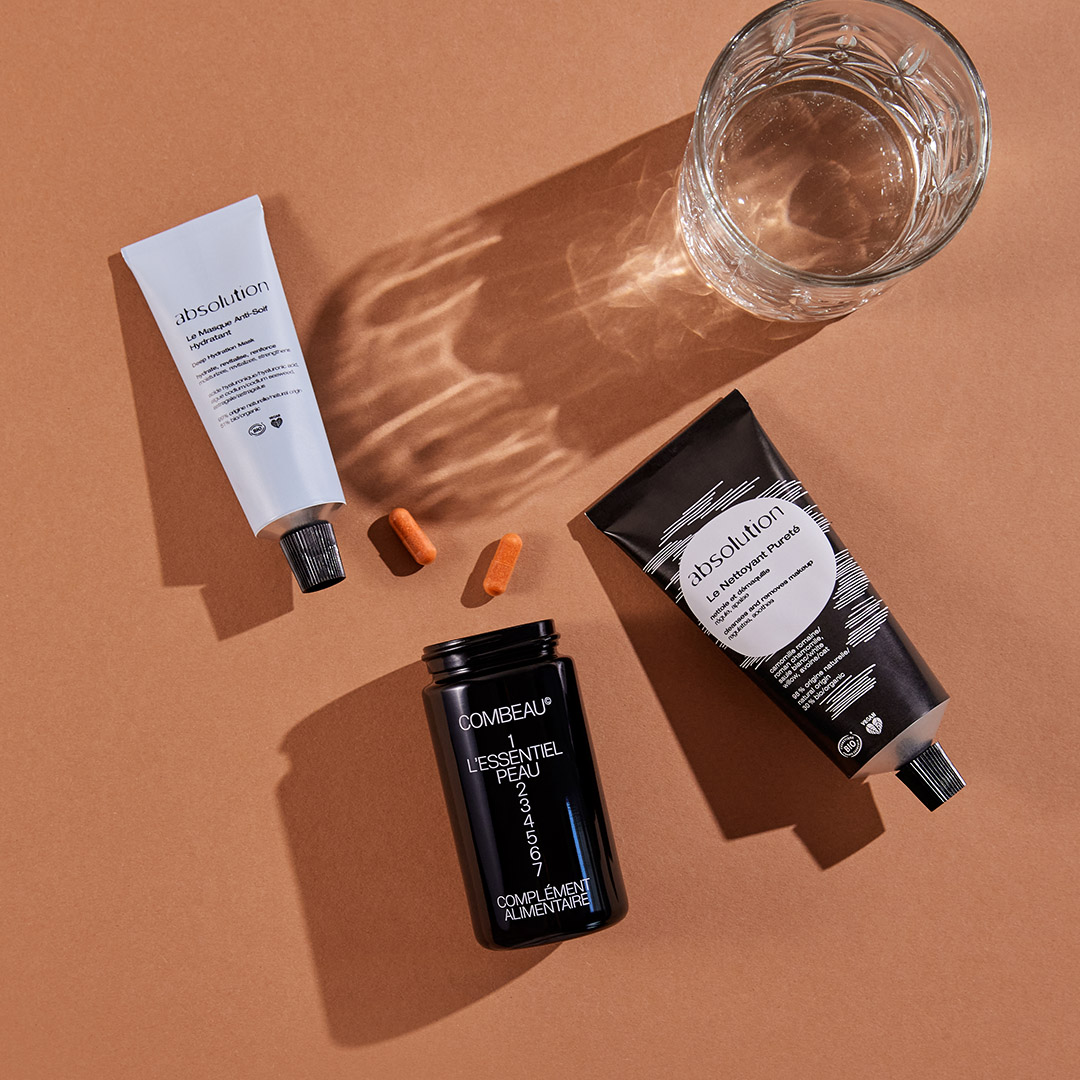 How to us this moisturising trio ?
Start your day with 2 capsules of L'Essentiel Peau preferably on an empty stomach for more efficiency. Not recommended for children, teenagers and people under anticoagulant treatment. Pregnant women and people undergoing medical treatment, ask a health professional for advice.
In the evening, apply Le Nettoyant Pureté to a damp face and massage gently to remove make-up and cleanse your skin thoroughly. Rinse with lukewarm water.
Depending on your routine and your skin's needs, apply Le Masque Anti-Soif Hydratant to boost your skin's hydration.